5 Legal Tech Solutions That You Can Actually Use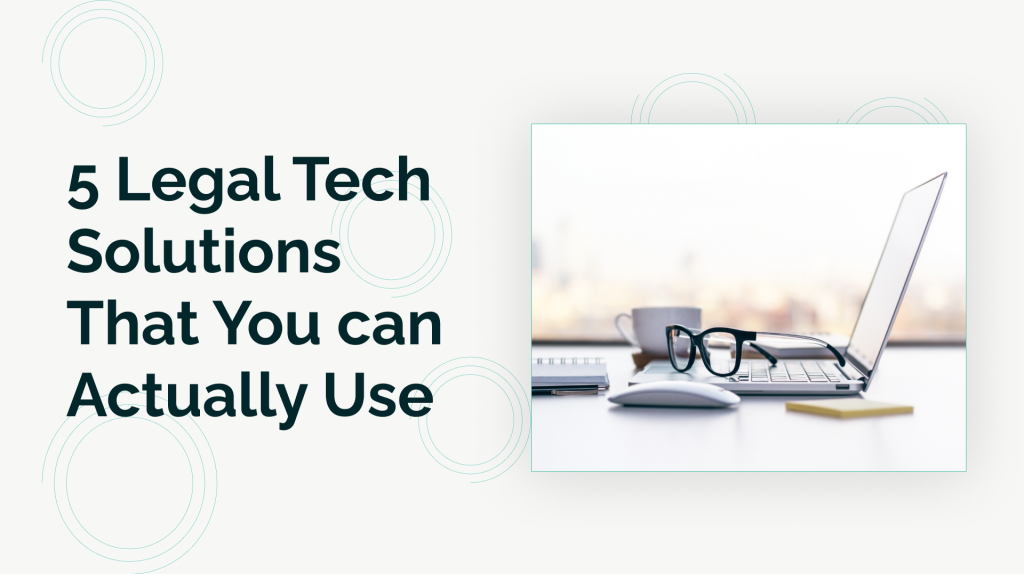 5 Legal Tech Solutions That You Can Actually Use
The push to remote work brought with it a golden age of legal tech investments aimed at finally dragging the practice of law into modernity. 2021 alone brought about a historic $1B in funding for legal tech companies (via Crunchbase). But, as has always been the case with legal tech, the main impediment to widespread adoption is attorneys' hesitancy to try new tech. To be certain, their hesitancy is not necessarily misplaced. Unlike its silicon valley peers, legal tech has not, historically, focused on user experience. Many solutions that purport to offer massive time saves remain ultimately unused by practicing attorneys on account of prohibitively steep learning curves. Simply put, lawyers avoid tech that makes them feel incompetent — and who could blame them?
Accordingly, this article will highlight some of the leaders in the legal tech space that provide powerful solutions that are usable without the need for a degree in computer science (or any training, for that matter). These solutions were picked because of their laser focus on the lawyer's experience and "walk-up usability." This list is by no means exhaustive — but, rather, intended to provide attorneys of all technical ability the opportunity to try a couple of new solutions right out of the box.
1. Ironclad—Contract Lifecycle Management
Ironclad has fast become one of the brightest unicorns in the legal tech world. Its accelerated adoption rates across in-house counsel teams and business units alike can be explained by its powerfully intuitive platform. Draft contracts, track renewals, automate negotiation processes, tag contracts with Google AI, manage terms of use, and more — all in one place. Like Google, Ironclad provides its users with some of the industry's most powerful tech in a manner that requires no explanation. Just poking around the platform you could gain a working understanding of its features in minutes. Unlike some of its peers, Ironclad gives you the ability to try out the platform before purchase, which can be set up by requesting a demo at this link.
2. Briefpoint—AI-Backed Litigation Document Drafting
Briefpoint is perhaps the simplest solution on the market — it reduces the amount of time you need to spend responding to discovery into a matter of minutes (instead of hours). To use it, all you need to do is upload a discovery request, choose how you'd like to object to each request, respond if necessary, and download the Word document. Just like that, all that's left for you to do is sign and serve. While currently only offering its solution for California discovery requests, Briefpoint is rapidly expanding into other jurisdictions and document types, with the ambitious goal of "allowing any litigator, in any jurisdiction, to automate the meat and potatoes of every litigation document with a simple drag-and-drop." You can try Briefpoint for free on their website, linked here.
3. Logikcull—eDiscovery
Logikcull is a platform that brings a great user experience to an otherwise terrible one — document review. Unlike some of the it's legacy peers, Logikcull brings a fresh, modern approach to document review, driven by simplicity. Like Briefpoint, all it takes to start using Logikcull's platform is a simple drag and drop of your files onto its platform. Once processed, Logikcull's automated, end-to-end document review starts and you can be on your merry way, reviewing documents with the power of 10 associates locked in a dark room over the weekend. You can try Logikcull for free on their website, linked here.
4. Motionize—AI-Powered Spellcheck for Contracts
Motionize is a document drafting aid and knowledge management tool integrated with your document management system that allows users to access precedent clauses all while staying in Microsoft Word. In addition, their tagging feature automatically improves enterprise search as attorneys work, giving you greater insight into your team's productivity. You can see Motionize in action at this link.
5. MyCase—Firm Management
MyCase is a great option for firms looking for a practice management solution that is robust but not complex. The project management features are straightforward, accounting reports are intuitive, and the communication modules are simple. By centralizing the majority of your law office work onto one platform, MyCase makes things simple by alleviating the need for a patchwork of other solutions. You can start a free trial of MyCase at their website, linked here.